Real-Time Progress Monitoring for IEP Goals
① Ensure teachers are recording IEP goals on a regular basis to maintain compliance
② Access any student's IEP progress in real time
③ Reduce teacher paperwork burden and burnout
How Much Does fastIEP Cost?
fastIEP costs only $20 to $40 per student, depending on volume. Enter the number of students who are on IEPs in your district to see your approximate cost.
Everything is included. You get an unlimited number of teacher and administrator accounts, and we provide easy integration with your existing software systems.
How many students are on IEPs in your school or district, approximately?
>>>
<<<
How many teachers manage IEPs in your school or district, approximately?
>>>
<<<
Total Price
$—
(price for a one-year contract)
We are happy to chat!
Do you have questions? Are you excited to learn how easily we can integrate with your district software and get your teachers onboarded? Want to customize a quote based on student volume, multi-year plans, grants, etc?
Please click the button to schedule a 15-minute ZOOM call with us at any time that is convenient for you.
Would you rather email than talk? No problem! Email us at info@fastiep.com with any of your questions.
Request a Price Quote
Volume discounts, multi-year discounts, grants and other savings are available. Please click the button below to receive a price quote by email.
Would you rather email than talk? No problem! Email us at info@fastiep.com with any of your questions.
4.75/5 rating by teachers from around the country
Testimonials from Special Educators:
But I already have IEP Software
Most "IEP Software" only handles authoring and reporting!
They do not profide any tools for data collection in real time in the classroom.
Teachers are left to figure this out themselves, often resorting to post-it notes, paper notebooks or spreadsheets.
These methods are far more time consuming, are inaccurate, insecure and impossible to audit or track.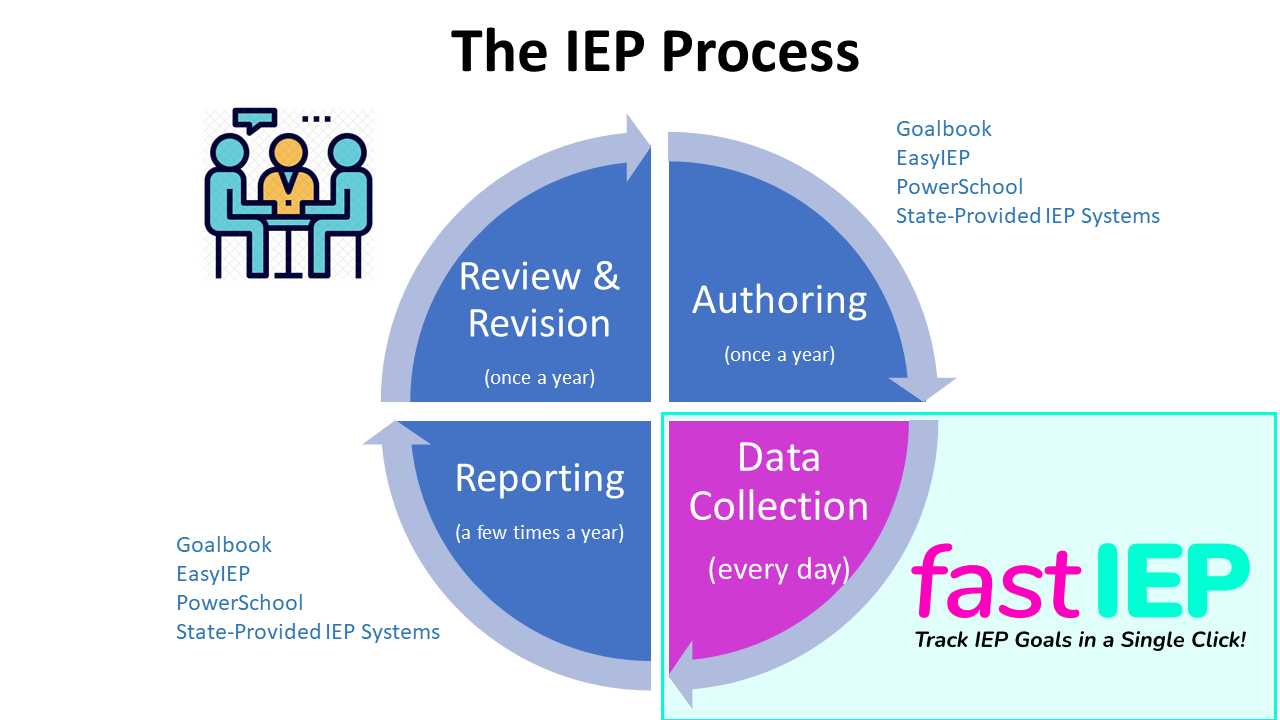 Testimonials
What have teachers said about fastIEP?
Frequently Asked Questions
We already have IEP software, why do we need fastIEP?

Most "IEP Software" is designed to help you write compliant IEPs. They typically don't provide any tools or functionality for real-time progress monitoring. So, once you've written the IEP your teachers still have to track progress on paper, manually, or in spreadsheets.
Writing compliant IEPs is important, but it's only half of the picture. To be fully compliant with Endrew F., you need to show that you're monitoring progress and that each student is making meaningful progress in light of their individual circumstances.

Can fastIEP integrate with our existing IEP authoring tool and student information system?

Yes, we can integrate with most IEP tools, student information systems, single sign-on systems and learning management systems. We will set this up as part of our standard district onboarding package once you've decided to implement fastIEP.

Can I use ESSER or title funds to acquire IEP progress monitoring tools?

Yes, actually all of these funding sources can be applied to IEP progress monitoring. If you have ESSER funds remaining, you can use these funds effectively by purchasing a multi-year subscription. IEP progress monitoring also falls under IDEA Part B, Title II (fastIEP provides professional development to teachers in the area of IEP goal creation and progress monitoring), Title III (fastIEP can also be used to monitor the progress of ELL students) and Title IV (contributes to social-emotional learning and healthy lifestyle habits).

Is fastIEP compliant with COPPA, FERPA, HIPPA, etc.?

COPPA deals exclusively with websites that children can access themselves. fastIEP is only accessible by educators and parents. Children never log in to fastIEP, so COPPA is not relevant.
FERPA protects the privacy of student personal details and educational records. With fastIEP, the only personal information we store is the student's name. We don't store address, phone number, date of birth, grades, etc. fastIEP's terms of service strictly prohibit us from sharing, selling or otherwise transferring any data to any third parties. For increased protection, some schools enter only the student's first name, or a code/nickname or student identifier instead of the full name.
HIPPA is applicable only to health care providers. fastIEP does not provide health care services and therefore is not covered by HIPPA.

What is the pricing model?

The price is an annual software license per student whose progress will be tracked. This allows you to add as many teachers, paraprofessionals, BCBAs, SLPs, OTs and administrators as you need without worrying about needing licenses. The standard list price is $40 per student for one year, however we offer both volume discounts and multi-year discounts that can bring this down significantly.

Our LMS already tracks progress automatically. Why do we need fastIEP?

Learning management systems are limited to tracking only what they teach, which is typically academic subjects like reading and math. Learning management systems cannot track behavioral or functional goals, which are very common in IEPs.
CASE Webinar: 40% of Teachers of Special Ed don't Record Progress Data
What can you do about it?
Recorded August 4, 2022
Interested in Implementing fastIEP in Your District?